Abolqasem Moghimi Haji
Chief of the Research Center for Islamic Encyclopedias
Morteza Kholousi
Expert and responsible for the head of the research Center
An encyclopedia is an alphabetic or thematic structure written in the domain of a particular knowledge or a large subject by a group of qualified experts in that field of knowledge or subject matter, in accordance with a particular style, and subject to the necessary scientific and technical constraints, and intends to present A systematic and well-established set of scientific information on the issues of that science or subject.
The Research Institute for the Study of Islamic Culture and Thought has been responsible for designing and producing religious specialized encyclopedias in order to produce solid and lasting works in the field of religious studies, observing technical, scientific and organizational requirements, according to the requirements of its mission.
Encyclopaedia from the perspective of the research institute
From the perspective of the Encyclopedia Research Institute, a comprehensive educational textbook, which, while applying the standard technical principles of an encyclopedia in form and content, focuses on critique, innovation and knitting in the domain of knowledge, content schooling, and intellectual orientation. It has a serious structure and has a thematic structure. Therefore, an encyclopedic article, although initially a comprehensive and comprehensive report of science, can be either a new or new analysis, a critique or a new statement of a subject and issue, in terms of scientific criteria. Introduction to the Institute for the Encyclopedia of the Institute of Journalism with the Purpose of the Writing and Creation of Specialized Religious Encyclopedias, in the national and international arena, has been established in the framework of the concept of religious encyclopedic design.
Some of the goals and approaches of this research institute are as follows:
Attempting to innovate and innovate in the technique of journalism and to promote the components and coordinates of the Institute's journalism journal as a research product;
Efforts to achieve a credible national and international position in the field of journalism;
Attention to technical and scientific interaction with other centers of encyclopedic internal and external;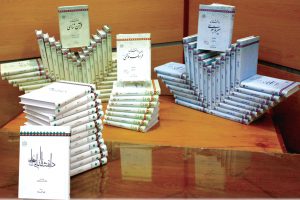 Executives of the Institute:
Dr. Abdolkarim Bahjatpour