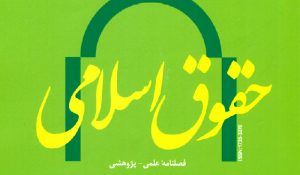 Islamic law is a scientific journals in the field of jurisprudence and Islamic law, which are published on the basis of the following goals and guidelines:
Explaining the legal system of Islam and presenting applied models, as well as providing a scientific and practical guide to its realization.
Critique of Schools and Legal Systems.
Investigation, rebirth and reciprocation of jurisprudential jurisprudence.
Pathology and the answer to the doubts raised in the field of jurisprudence and law.
Pathology of Theoretical and Practical Dimensions of the Legal System of the Islamic Republic.
Explaining the principles and jurisprudential and legal issues of Islam and the well-documented defense of it.
Explaining the jurisprudential sciences (philosophy of jurisprudence, jurisprudence, Sharia law, etc.).
A comparative study of schools and legal systems in order to develop and deepen the legal and legal system of Islam and to answer the raised doubts.
Investigating emerging issues and providing solutions based on the legal and legal system of Islam.
Reviewing the laws and efforts to solve the legal problems of the Islamic Republic of Iran.
To contact the magazine's office, send a paper, and know the rules and conditions and how to submit the articles to the official website of the Islamic Law Journal .
Editorial Staff:
Director responsible for
Ali Akbar Rashad
Associate professor of Islamic thought and culture
Specialty: Islamic Philosophy
E-mail: rashad iict.ir
chief editor
Abdul Hussein Shirovi
Professor at Tehran University
Specialty: Private Law
E-mail: ashiravi ut.ac.ir
executive Secretary
Mohammad Reza Parsamnash
MA
Specialty: Criminal Law and Criminology
E-mail: mohammadreza.parsamanesh gmail.com
Staff Writer
Abdul Hussein Shirovi
Professor at Tehran University
Specialty: Private Law
E-mail: ashiravi ut.ac.ir
Mohammad Ali Ardebili
Professor at Shahid Beheshti University
Specialty: Criminal Law and Criminology
E-mail: m-Ardebili Sbu.ac.ir
Reza Master
Professor of Qom Seminary
Specialty: jurisprudence and principles
E-mail: ostadi yahoo.com
Nadi Ali Almasi
Professor at Tehran University
Specialty: Private Law
Email: almasi ut.ac.ir
Mahmood Hekmat Nia
Associate professor of Islamic thought and culture
Specialty: Private Law
E-mail: dr.hekmatnia yahoo.com
Mohammad Issaie Tafreshi
Professor at Tarbiat Modares University
Specialty: Private Law
Email: mit1382 yahoo.com
Ali Akbar Rashad
Associate professor of Islamic thought and culture
Specialty: Islamic philosophy, jurisprudence and principles
E-mail: rashad iict.ir
Abolqasem Alidoush
Associate professor of Islamic thought and culture
Specialty: jurisprudence and principles
Email: abolghasemalidoost yahoo.com
Abbas Ali Kadkhodaee
Professor at Tehran University
Email: aliyary1385 gmail.com
Seyed Fazlallah Mousavi
Professor at Tehran University
Specialty: International Law
Email: sfmoosavi12 gmail.com
Sayyed Abbas Mousavian
Associate professor of Islamic thought and culture
Specialty: Economic Jurisprudence
Email: samosavian yahoo.com
Hossein Mir Mohammad Sadeghi
Professor at Shahid Beheshti University
Specialty: Contract Law
E-mail: H_Sadeghi Sbu.ac.ir
Ali Hossein Najafi Abrandabadi
Professor at Shahid Beheshti University
Specialty: Criminal Law and Criminology and Criminal Policy
Email: ahnaus yahoo.com