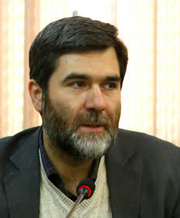 Dr. Aziz Najafpour
Head of the Center
Mohammad Mahdi Parvaneh
Center expert
Considering the high level of cyberspace issues and the necessity of the effective entry of the research institute in this important theoretical and strategic direction of the Center for Cyberspace Studies in Shahrivar, 1996, with the aim of doubling efforts to pursue the concerns and guidelines of the cultivating leader of the Islamic Revolution (the tragedy of the Islamic Revolution) in the field of blessings and dangers Cyberspace, development of cooperation and provision of reliable resources for the implementation of the Center's programs and activities.
Goals and general plans:
Developing the strategies, approaches, and priorities of the Center's activities, based on the goals, strategic principles, and outlook of the research institute and strategic measures of the Supreme Leader of the Islamic Revolutionary Guard, and to submit to the decision-making authorities for approval.
Continuous efforts and efforts to update strategies, approaches and priorities, and to prepare appropriate plans to achieve the goals and tasks of the center and develop and promote its activities.
Managing the current affairs of the Center and monitoring the performance of its units and its staff.
Applying the capacities of the research institutes and subsidiaries to realize the goals and tasks of the center, as well as managing the effective presence of scientific research units and colleagues in the cyberspace.
Establishing active communication with organizations and institutions in order to synergy and develop partnerships, increase the effectiveness of activities, exploit national capacities and provide the necessary resources for the implementation of programs and approved by the Center.
Preparation and presentation of the long-term, short-term and annual plans of the Center in accordance with its objectives and tasks, and monitoring their proper implementation after approval by the competent authorities.
Identify and introduce people with the competencies necessary for running the Center's programs, and overseeing the work of academic and executive colleagues.
The secretariat of the Supreme Council of the Center and the conduct of meetings of specialized councils and experts, and the referral of decisions made to competent authorities for approval as the case may be.
Follow up of other referrals by the head of the research institute and reference councils.
Preparation and submission of the interim and annual report on the progress of approved programs and projects and the results of the activities of the Center.