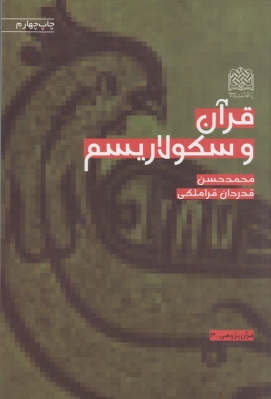 by: Mohhamad Hassan Qadrdan Qaramaleki
The secularism is a newly created issue including different utterances and recitals as according to each recital brings up doubts regarding the interference of religion in mundane life, politics and government and is specially linked to verses of the Holy Quran. The present research exactly studies the affiliation between The Holy Quran and the mundane life, politics, government and lacking compatibility with secularism.
Intending to express the secularism in a clear way and to be able to criticize and evaluate it according to the Holy Quran the writer has divided the issues into four chapters in a systemized and logic way: The first chapter includes the primary points like as the definition and the background of the secularism, authoritativeness and the comprehensiveness of the holy Quran. In the second chapter the seven part essentials of the secularism that is: scholarship, intellectualism, the natural rights, Omenism, liberalism, relativism, and the religious experimentation are criticized and analyzed. In the third chapter it is proved that the four famous models of the secularism, that is; Autism, deity, religious and post secular are not matching the essentials of the holy Quran. And finally in the fourth chapter the writer has restricted his discussion to three parts of report, reason criticizing and the doubts of the secular.